An inseparable tandem.
In my heart, lies a man who would love me until the end of time.
Information
Entries
Facebook
Twitter
Tumblr
Recent movies I've watched this Summer '09.
Why hello there, browsers! Glad you visited here in my dearest blog. :)
Summer is about to end and I should probably fill my blog with new blogs with tons of topics that I have been pondering of the whole summer. Well, I have this new topic that I'd like to share with you guys today. And y'know what it is?
MOVIES
. I know I blog about movies most of the time but now I'll be blogging about the recent movies which I have watched during this year's summer. :D
X-Men Origins Wolverine
Rating: 5 stars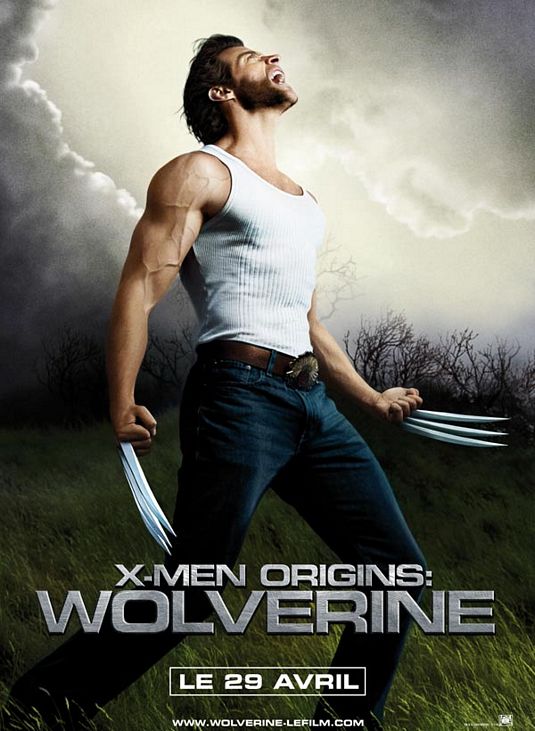 This movie is awesome! I love the way it was made and how the story was told. Well, one thing I have to say is - HUGH JACKMAN is really sexy! LOL. This movie showed how X-Men was formed. I watched this on DVD first but it wasn't that nice because the DVD wasn't edited yet due to piracy. However, when this movie was being showed in the cinemas, me & my mom watched it during Mother's Day and I loved all the effects. It truly is a one of a kind movie! :D
Fast & Furious 4

Rating
:
5 stars

Now,
Fast and Furious 4
is one movie you cannot miss. I love Cars! And this movie involves a lot of cars. Racing cars, to be specific. It stars Vin Diesel and other great stars. This movie is all about cars, obviously. And a bit of action, drama and love [??]. Well, Vin Diesel who is a protagonist some
bad guys
or villains, I guess. This movie is AMAZING. I love the beginning, the climax, the ending..
everything!
Great director. *claps*
Rating: 5 stars

Angels and Demons; staring Tom Hanks. Some say that it is a sequel of
The Da Vinci Code
(which I haven't watched yet) but others say that it is a different one. Either way, I still like this movie. It has a superb story with great actors. And I love its plots. It is about priests who have been kidnapped and they will be assassinated afterwards; Tom Hanks who's supposed to figure out how to save the priests. Tom Hank's character is awesome! He was able to figure out where the priest's location of assassination. Honestly, it has a fantastic story, the climax is great and the fact that the movie is taped in Europe, oh it is perfect! :)
Night at the Museum 2
Rating: 3 stars

We watched Night at the Museum 2 a few days ago and it was pretty humorous. I watched it with my mom and my brother. However, they both fell asleep during the movie. I was a bit sleepy as well. But I do find some scenes of this movie quite funny and interesting. But I must confess, part 1 was nicer than part 2. I don't know why but I guess the previous one is funnier and much interesting than this new one. Ben Stiller still did a great job, though. Even Amy Adams who starred in this movie. She only appeared in part 2 and she had a tandem together with Larry Daley (Ben Stiller). Yes, this movie is simple yet magnificent! Some parts weren't that funny at all, but some were really hilarious. A movie well done!

These are the movies that I have watched this summer 2009 and if you haven't watched some of these movies yet then you should be full of regrets! Go watch now before you make mistakes. I'm sure that you would love all of these! I bet. :D

Posted on Saturday, June 13, 2009 at 1:12 PM.
Random Boldings no. 1
1. I'm turning sixteen in less than a month.
2. I plan to make this Summer one to remember.
3. I love my brother (sister) more than anything.
4. My cousins are my bestfriends.
5. I love the stars.
6. I live in Canada.
7. I think Gabe Saporta is a sexy, sexy man.
8. My life is non-existent.
9. I laugh about everything.
10. I'm short, get over it.
11. I'm not afraid of change.
12. I know someone who collects pennies.
13. I lie like the west was won.
14. Fall Out Boy is my favourite band, stfu.
15. Dallas Green is amazing.
16. My eyes change colour.
17. Degrassi is the best thing ever.
18. Listening to The Fratellis makes me want to sing and dance.
19. I was born in Toronto.
20. I talk like a scene kid. >=|
21. I used to be incredibly shy, but I've come out of my shell a lot.
22. I just finished grade 10, and I'm amazed that I won't be able to count my grade on my fingers next year.
23. I'm like every other teenager in the sense that music is my life.
24. I'm always youtubing.
25. I've only been to one big concert.
26. I can't wait to leave home.
27. I have a dog, (s)he's my baby.
28. I love to read.
29. I do way too many surveys.
30. Facebook is better than MySpace.
31. I hate public speaking.
32. I'm a Military brat.
33. I get stressed crazy easily.
34. I swear too much.
35. I wish my family had tons and tons of money.
36. Me and my friends have a lot of insiders.
37. I'm incredibly dirty-minded.
38. I'm allergic to cats.
39. I've never drank, smoked or done drugs.
40. My brother (sister) would kill me if I started smoking.
41. Hockey is my favourite sport.
42. Jeffree Star disgusts me.
43. I used to be obsessed with Eminem.
44. I've lost a lot of friends in the past two years.
45. I don't wear skinny jeans.
46. I'm always on time.
47. I have a really short temper.
48. My parents aren't divorced.
49. It takes A LOT to make me cry.
50. In the past, I've suffered from extreme panic attacks.
Random Boldings no. 2
1. I have an unnatural obsession with The Living End and Chris Cheney.
2. I'm missing part of my right eyebrow.
3. I wear band t-shirts all the time.
4. My favorite sport is hockey.
5. I sometimes wish I had bigger boobs.
6. I love to eat raw cookie dough.
7. I lose my sanity as soon as I step foot into the party store.
8. I have a pool in my backyard.
9. I'm Scottish, Irish, and Norwegian.
10. I've had two grandparents die in less than a year.
11. I love playing Guitar Hero.
12. I like old bands like The Beatles, The Kinks, The Ramones, The Clash, etc.
13. Reading is one of my favorite past times.
14. I have many celebrity crushes.
15. I hate dressing up.
16. I want to learn to play the drums.
17. I've never had sex.
18. I have never wet the bed.
19. I can play the guitar.
20. My favorite movie is Little Miss Sunshine.
21. I played soccer for 6 years.
22. I've never had a boyfriend.
23. I'm willing to try anything new if a friend is with me.
24. I'm very picky when it comes to food.
25. I have mild depression.
26. I'd rather be really hot than really cold.
27. I'm on the varsity track team at school.
28. I haven't had my first kiss yet.
29. Cheerwine makes me hyper.
30. I'd rather be in Hilton Head Island.
31. Coffee is disgusting.
32. I actually like the smell and taste of beer.
33. I like my name, but I don't think it suits me.
34. My favorite color is blue.
35. I'm getting so sick of politics.
36. I really hate school.
37. I hate talking on the phone.
38. I'm really jumpy.
39. I don't think my name is that common.
40. I live in a rich town.
41. I'm not a very serious person.
42. I joke around too much.
43. I'm pretty sarcastic.
44. I'm really hungry.
45. The only Jonas Brother I think is hot is Nick.
46. I loved The Cutting Edge 2.
47. I could listen to Jude from Across The Universe sing for hours.
48. I always have a song stuck in my head.
49. People tell me my smile "lights up a room."
50. I'm retarded when it comes to math.
Random Boldings no. 3
1. I am on Facebook right now.
2. I am subscribed to over 20 channels on YouTube.
3. I personally know at least one of those people in real life.
4. I have trouble numbering things.
5. I really, really despise my phone.
6. I hope to get Augustana's new album soon.
7. I recently defeated Optem Alfred on the Sims 2 for Nintendo DS.
8. I saw my father today.
9. I also saw a train today.
10. My favorite color of Post-It notes is yellow.
11. I want to try the lemonade from Starbucks.
12. When it is nearing my birthday, I become very selfish.
13. I have a flag in my room, other than the American flag.
14. I'm looking forward to football season.
15. During the summer, I only like it when it rains at night.
16. My state is currently in a very bad drought.
17. I have supported Barack Obama since 2006.
18. I plan to reread the Harry Potter series this summer.
19. My summer break ends in early August.
20. I am very excited about my junior year.
21. But I am not looking forward to the GHSGTs.
22. I have met the governor of my state.
23. I would like some water right now.
24. I want a new laptop.
25. I have lost four or more friends and/or family members this year.
26. I do not enjoy snow.
27. I do not enjoy humidity either, but it is unavoidable.
28. I am wearing green shorts.
29. I have at least three autographed books.
30. I love the movie Into The Wild.
31. My dream college is UGA.
32. I want to take a train somewhere.
33. I will be going on a cruise this year.
34. I want to meet a Beatle (or two) before I die. <>
35. I love MuggleNet.
36. SteAndKel are one of my favorite channels on YouTube.
37. I still like to get on Neopets.


38. My passion is photograhpy.


39. I only have contact with one grandparent. (the rest are dead..)
40. I am worried about the economy.
41. I think we should invest in alternate fuel methods.
42. I annoy my friends and family with my interest in politics.
43. I have fallen for a guy with hair longer than mine.
44. I have also fallen for a guy of a different race.
45. I know someone with the last name "Peace".
46. I am not very outgoing.
47. I am not fond of MTV.
48. I am the only person in my family to have blue eyes.


49. I am really wanting to kayak right now.


50. I am tired, and should go to bed.

[ Love from ServinSurveys dot multiply dot com ]
Labels: surveys
Posted on Tuesday, June 9, 2009 at 4:51 PM.
Have you been watching the news these days? If not, you should be ashamed of yourself. Okay, enough of that stuff. If you do, I'm certain that you know what the whole universe is talking about right at the moment, right? What is it, then? OH
C'MON
!
You probably know what I'm talking about. It's impossible, if you don't know what my engine is popping about..
THE AH1N1 virus or also known as SWINE FLU
. Well, it has been all over the news over and over again. Actually, it irritates me a little since they never get tired of it. My brother, who just came back from USA (for a vacation), said that they didn't really talk about swine flu there (in the states). Perhaps it's for the country's best not to panic about the virus.
As of now, there are
22 cases
of H1N1 virus here in the Philippines. That's what I know, however. I pity those who have the flu because they are being quarantined. And in my opinion, being in a quarantine really stinks. Not literally, I mean, it sucks! Don't you think? I'm glad that my brother doesn't have any virus/flu because he didn't even get any fever or something. That's good. In that case, if you don't want to catch the virus then the only thing I could suggest is to drink/take your vitamins. Why? My mom mentioned that if your resistance is low then you'll easily get the flu but if your resistance is high then there's absolutely nothing to worry about.
Two days ago, I've heard that an exchange student at
DLSU
(De La
Salle
University) has the case of swine flu and now, all the classes at
DLSU
main are suspended due to that incident. And also, yesterday, the news said that some people who arrived from abroad all had swine flu. I think that 16 people were proven that they have caught the AH1n1 virus and to add it all up, there are now 22 cases. Everyone is getting agitated. But me? Not really. No, I don't take my vitamins everyday. It's not that I don't want to, it's just that I forget to take them sometimes and I often get too lazy to even grab them.
Several people answered this question of mine,
"Does swine flu have a cure?"
. Some were even doctors who have given the answer to that question. And they told me that
the flu is very easy to cure but it can be spread easily as well
. And I think that we should all be careful to whom we are acquainted because we don't have any idea whether they have the virus or not.
So, I suggest we should:
1) Drink and/or
take your vitamins daily
for protection. Not only for swine flu, but for all diseases out there so that you won't have any illnesses at all. Just for safety!
2) Don't kiss your friends or significant others anymore (not that I'm stopping you from sharing the love) because he/she might have the flu so
just shake hands with each other
. It's a much better thing to do than kissing each other. Do this to prevent spreading the virus.
3) Never ever forget to
be careful
. Do no.1 and no.2 so that you'll be carefree. Right on!
Let us all pray that the deadly flu which is Swine Flu or A(H1n1) virus will not spread in our country, the Philippines. Please be vigilant for your own good. Thank you very much for reading!
Labels: ah1n1, clarisse zaplan, disease, prevention, safety, swine flu, virus, vitamins
Posted on Friday, June 5, 2009 at 5:00 PM.
What went wrong with the Cavs?
I still wonder why the
Cleveland Clavliers
who has the
Most Valuable Player
(MVP) in its team, lost Game 7 against Orlando Magic? I was referring to LeBron James who is 2009's MVP. All of them idolize LeBron. However, why did they lose? Is Magic better than the Cavs? Or perhaps that day wasn't just LeBron's lucky day? I wonder. Many questions have been bothering me. Does LeBron really deserve to be 2009's MVP? Or was he just lucky that time that he got that award? True, a lot of questions haven't been answered yet. But what do you think the answers will be?
Some say that LeBron is just lucky that's why he's good at some games and he could score a lot of points.. Unlike other players, who score lots of points in every game they're into. Well, as you can see in my previous entry, I've said that one of my favorite players is
Kobe Bryant
who is last year's MVP. And in my opinion, I think Kobe deserved 2009's MVP more than LeBron. Why? Because Kobe is disciplined. I'm not saying that LeBron isn't disciplined but sometimes he tends to be nervous in a way that you can't explain but you can see that he looks anxious while playing in the court.
It's not that I don't like the Cavaliers but sometimes they seem so weak. Not in a bad way, but in an unfortunate way. Maybe they had lack of time in practicing or something like that. They should have been like the Lakers; defensive and offensive at the same time. And I bet they practiced shooting some hoops because they often shoot it without hesitation. I know that LeBron is still your idol.. But please don't judge Kobe as well. He's just a great player, why can't you just accept that fact? Well, I have to admit, LeBron is really a legend but don't forget Kobe Bryant.
Never forget Kobe
. He's a legend too, they're both NBA legends. So, I just hope that LeBron and his teammates will practice and practice so that in the next year's playoffs, their team would be in the finals.
And to the Lakers, I know they're always champions - win or lose! Even so, if you think that they're unfair because they always get to be in the finals then my advice is just.. Suck it up, they're really that good so what else can you do? Just watch and learn, right? If you want your team to be in the Finals too, then I suggest you should just practice all the time, be defensive and offensive, plus, don't forget to be clever. Sometimes basketball needs a pretty clever player to outsmart your opponents. Right right?
So, who's your bet for the Finals?
Lakers or Magic?
Don't even think twice about asking because I'm certain you already know whom I'm in favor of.. LAKERS
!
DUH! Anyway, please cheer for Lakers and all its players. But if you're in favor of Magic, I just want to wish you good luck. They have a pretty great team as well. Let's just see who wins.. Let's go Lakers! :P
Labels: basketball, kobe bryant, lakers, lebron james, magic, nba
Posted on Tuesday, June 2, 2009 at 5:10 PM.